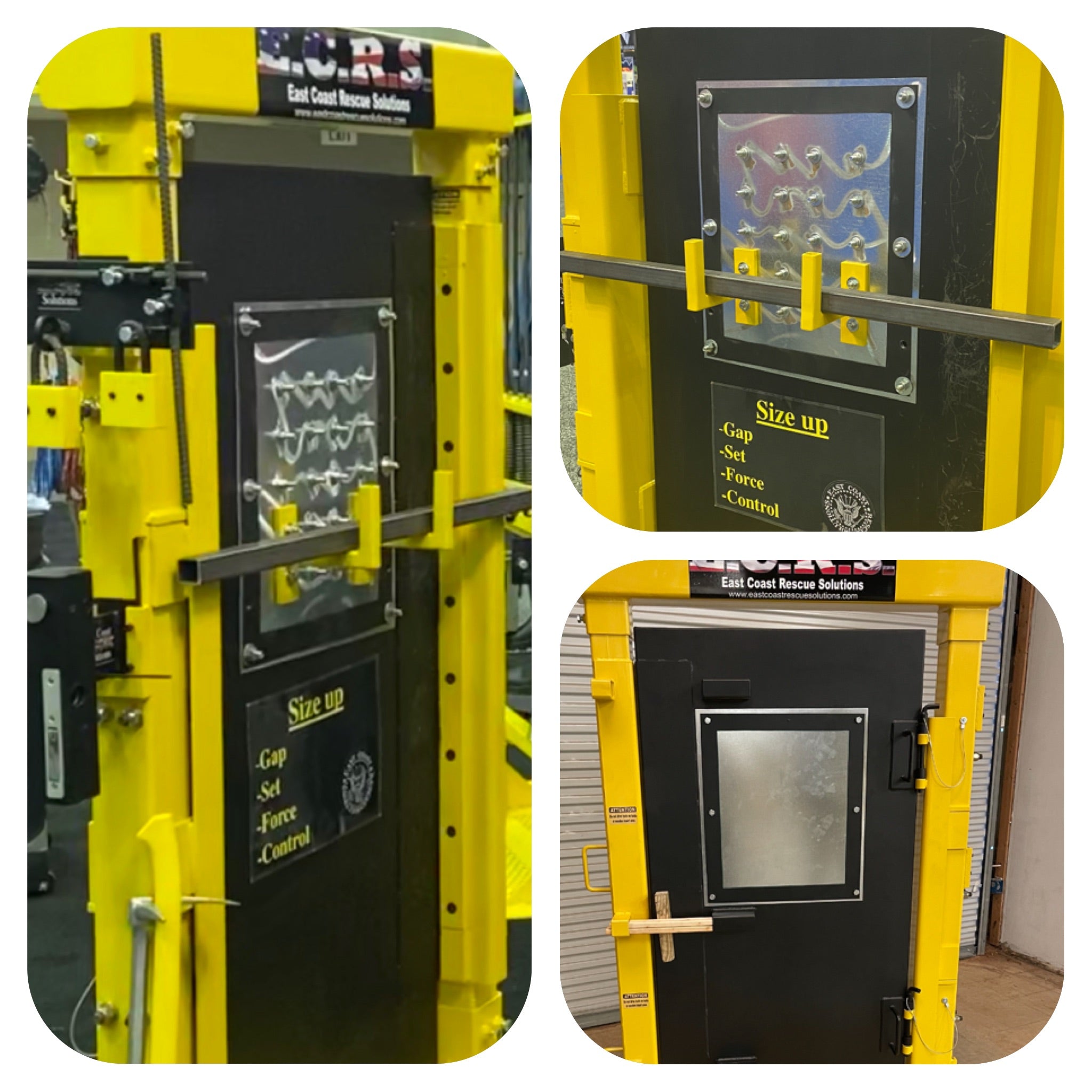 ECRS GEN3 Forcible entry door
The newest GEN3 East Coast Rescue Solutions Forcible Entry Door is the industry leader in forcible entry door simulators, built to be the most durable and realistic props offered on the market today. This new door design has the capability to add drop bars that can be forced coventionally and also allows you to attack the carriage botls by either cutting or conventionally attacking them. This door can be forced top to bottom with no restrictions and has been engineered to flex like real metal doors. The door has three seperate locks (top,middle,bottom) allowing for basic and advanced forciblle entry for inward and outward forces. These are just some of the features of the ECRS forcible Entry door. We feel that students should be able to force our doors without restrictions and train as they would do on the fire ground.

Our locks (top, middle, bottom) uses 2x2 and 1x2 wood blocks. Our full door stop allows you to force the door from top to bottom without restrictions. Our design has two replaceable parts, the door stop and the door sleeve. These parts are the sections that receive the most abuse over many years of use and can be replaced easily by the customer or ECRS, thus, giving you a new door for a fraction of the cost. In addition, our door offers the option to mount additional props to the side of the simulator. These props include, rebar cutting, hinge pulling and cutting, padlock cutting and thru-the-lock props. The ECRS door is made to easily disassemble for easy transport and also offers a detachable wheel option.

The ECRS Forcible Entry Door Simulator will give you realistic training on inward and outward swinging doors, providing your department the repetition required to become proficient in forcible entry. Please contact us with any questions and/or for your custom quote.


* ECRS Forcible Entry Door Brochure
* Testimonials and Departments We Have Worked With
** A Forcible Entry Train the Trainer class is recommended with the purchase of each door.
​All-In-One Props
Our All-In-One Props package offers 7 different forcible entry training disciplines that mount to the side of the ECRS Forcible Entry Door Simulator and at three different heights. First, our rebar cutting prop holds six pieces of 1/2" rebar in a window bar configuration. The padlock cutting prop also mounts to the rebar station and simulates cutting hasp hardened locks. Next, our hinge pulling and cutting prop is designed to have your students pull our reusable hinges with four resistance levels. The hinge prop also accepts 1/4' plate for cutting hinges. Lastly, our thru-the lock prop allows your firefighters to pull a commercial type mortise lock and then manipulate the locking mechinism. We offer a reusable lock cylinder to cut out consumable cost. This package of props will allow your firefighter to train on additional forcible entry disiplines that will help them to hone thier skills for success on the fireground
Prop Includes:
2 - Hinge Pulling/Cutting Stations
1 - Rebar Cutting/Burning Stations (holds six pieces of 1/2" rebar)
1 - Thru-the-Lock (with reuasble lock cylinder)
1 - Padlock Cutting Prop with hasp bending jig
Thru-The Lock Prop
- Mounts to the side of the ECRS Foricble Entry Door Prop, Stand Alone Prop or sold with mountng receiver.
- Commercial Type Mortise Lock
- Milled Lock Cylinder-no consumables.
- Lock Body included for manual lock manipulation.
-
Battering Ram and Door Dolly System
We also offer additional optons that add to the vertilitly of our Door. First you can add the removable battering ram plate for Police and Mlittary use. This plate is 8x8 and is 1/2" thick. We also increase the amount of steel in the frame of the door to withstand the abuse. Beware of other doors that just bolt on a plate without streangthing the door frame.

Our removable Door Dolly System allows a single person to easily relocate the ECRS Foricble Entry Door on your training grounds or within your firehouse. This compact heavy duty design can hold up to 1300 pounds and be set up in just a few minutes.
Inward force with three locks
Forcing door to make entry for Mayday drill.
ECRS SIMULATORS & TRAINING
Firefighters put their lives on the line every day to protect the lives and property of others. East Coast Rescue Solutions is committed to protecting firefighters. With over 100 years of professional experience from within the FDNY and other major metropolitan fire departments, our team recognizes the need for high quality products and expert training.
We own and operate our own fabrication shop outside of Atlanta, Georgia and can provide custom built Foricble Entry and Man vs Machine props for your department.
We also provide customized training programs tailored to meet the specific needs of your department. We offer a wide variety of classes in areas such as forcible entry, engine and truck company operations, FAST/RIT, firefighter survival and bailout procedures. Let ECRS supply your department with the skills and equipment necessary to keep your firefighters safe.
East Coast Rescue Solutions was created by firefighters who understand the importance of having the right training in critical situations. Our philosophy is that no firefighter should ever be left behind and we are bringing that philosophy to every course we teach and every product we sell. That is our commitment to you. Rest assured when you select ECRS for your department's training and equipment needs, you will be getting a knowledgeable, reliable and dedicated staff to make sure your firefighters stay safe.

* Join the many departments around the world we have worked with!
Check this out! The Hurst StongArm in action